Radio Free Europe Celebrates 63 Years of Broadcasting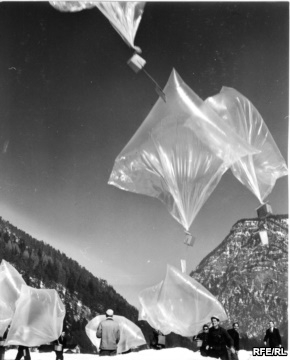 Balloons carrying information flew over the Iron Curtain's censors.
Happy Fourth of July! As our nation recognizes its independence, Radio Free Europe celebrates its 63rd anniversary — on July 4, 1950, RFE broadcast their first program in Czechoslovakia.
Over the years, Radio Free Europe/Radio Liberty (RFE/RL) have made their mark on history by consistently reporting the news in countries where a free press is banned by the government or not fully established, though the methods in which they have done so have evolved.
When faced with media restrictions, U.S. international broadcasters have consistently been on the forefront of innovation with regard to getting programs to media restrictive environments.
One example from the archives: Between 1951-1956, news was delivered over the Iron Curtain by high altitude balloons. More than 500,000 balloons carried leaflets and other printed materials over the Iron Curtain, to locations including Czechoslovakia, Poland and Hungary. Access to media and information was tightly controlled, and the printed materials from RFE gave audiences a rare view of the outside world.
The technology used today to reach people around the world is much different from the balloons used in decades past. Citizens are able to interact and be involved with the news like never before thanks to new technological innovations, and RFE/RL has developed new ways of transmitting news around the world. For example, in Afghanistan RFE/RL has enjoyed great success with its interactive SMS service, which allows listeners to subscribe to breaking news alerts, access content via their mobile phones and upload user-generated text and video content to RFE/RL's Radio Azadi. Through the interactive SMS service, Radio Azadi is in regular mobile contact with a quarter of a million Dari and Pashto language listeners.
Innovations such as this span the entirety of U.S. international media. The Broadcasting Board of Governors recently held an event, Innovating at the Speed of News, to showcase some of the ways that they reach people around the globe – ranging from anti-censorship technologies to innovative delivery methods to unique programming.
Through all of these innovations, one thing has remained constant: The critical role of broadcasters within the BBG network in providing balanced news and information to audiences who often lack it, and the essential role of U.S. international media as a model of free press.