The Vaclav Havel Fellowship is a joint program between the Ministry of Foreign Affairs of the Czech Republic and Radio Free Europe/Radio Liberty that is inspired by the former president's belief in the transformational role of journalism in challenging tyranny. It provides direct work experience and mentoring at RFE/RL's Prague headquarters to journalists from countries in RFE/RL's broadcast region where media freedom is stifled. More information about the program can be found here.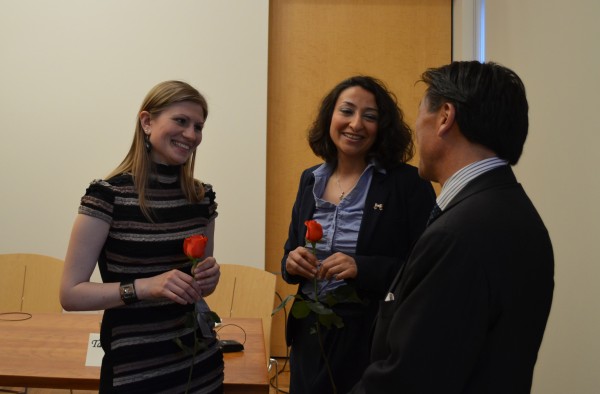 Irina Gotisan, left, talks with other 2013 Vaclav Havel Fellow Tahmina Taghiyeva, center, and John Todoroki of the Prague Freedom Foundation, right.
"Before receiving the Vaclav Havel Fellowship at Radio Free Europe/Radio Liberty, I was a reporter at the national TV channel from the Republic of Moldova, Moldova 1. A reform was in progress here when I joined the news room in May 2010 that was attempting to transform the outlet from a propaganda tool by the former ruling Party of Communists to a genuine modern news room, competing with private TV stations.
I was conscious about all of the difficulties at Moldova 1, but I wanted to be part of this reform and contribute.
As a reporter at Moldova 1, I mainly covered political topics, and I produced short informative reportages during electoral campaigns. It was difficult to try to regain the confidence of Moldova 1's viewers. Sometimes it was difficult to obtain interviews. Sometimes when I tried to speak to people in the street, they would refuse to talk to me because of the microphone I was carrying, saying that I was representing 'the Communist's TV.'
The new management together with a new team of editors, presenters and reporters had to work hard to restore the public trust in the main news program, Mesager – The Messenger. The task was difficult enough because some colleagues who used to work at the station during the communist regime and embraced Communist ideology tried to resist the reform. Despite the resistance, the efforts of the new team to regain the confidence of our public and to present truthful journalism at the public national channel were appreciated by the EU, the OSCE, and the U.S. State Department, as well as local media NGOs.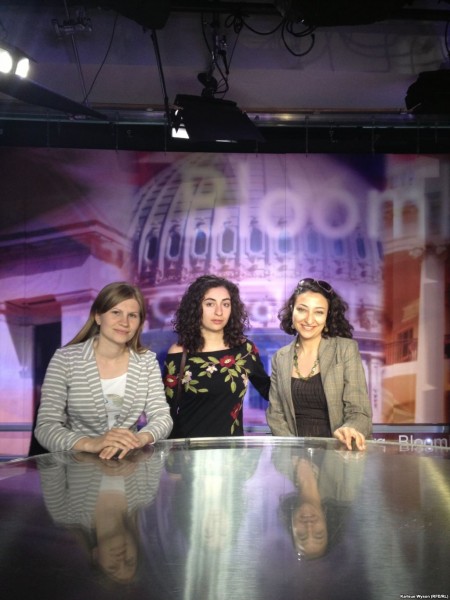 Seda Stepanyan, center, joined Gotisan and Taghiyeva in the studios of the Washington, DC bureau of Bloomberg News on April 8, 2013. The three women won 2013 Vaclav Havel Journalism Fellowships.
The Vaclav Havel Fellowship represents a good opportunity for me to know more about documentary films. Even though Radio Free Europe produces short video features and not documentaries, but I have the possibility to learn more about how to identify an interesting topic, how to shoot and how to edit the video. Also, a very interesting experience for me was the radio journalism, because I only knew how to do television reporting. Through this fellowship, I met a lot of interesting persons.  I visited new places in the world, and I enriched myself not only professionally, but also spiritually.
After this fellowship I plan to bring my contribution to developing the new advocacy and production department at the Independent Journalism Centre back home. I also want to improve my skills and knowledge in documentary production.       
I hope that, one day, the Moldovan mass media will be appreciated as a free one in the Freedom House reports. I am also optimistic that one day the journalists from my country will be more courageous and will do more investigative materials about corruption and social issues and, after that, the persons responsible for some wrong doings, especially politicians, will be punished.
I hope that journalists will not allow anybody to influence them and that our politicians will understand that mass media is a watchdog and not a puppy with which they can play games.
________________________________________________________________
Irina Gotisan, a journalist specializing in visual media and documentary film, is fulfilling her fellowship in Prague with RFE/RL's Moldova Service. From 2010-2012, Gotisan worked as a reporter covering political and social issues for TV Moldova 1, a national, public television channel. A recipient of the Chisinau Press Club's "Hope of the Year" award in 2010, Gotisan has held several journalism internships, including one with AICI Network, a media program funded by the US Agency for International Development (USAID). In 2006, Gotisan joined the International Relations faculty at "Perspectiva International" University in Chisinau, where she taught courses on globalization and international relations. Gotisan is a 2012 graduate of the Television School in Bucharest, Romania and holds a Masters degree from the Academy of Public Administration in Chisinau.
Leave a comment