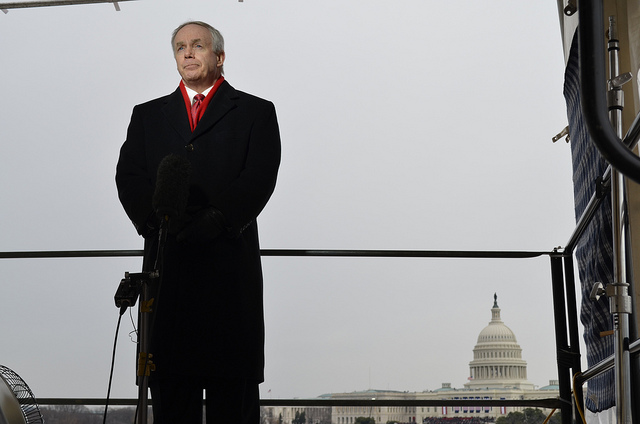 VOA's  Jim Malone covers the 2013 Presidential Inauguration
Jim Malone, a National Correspondent for VOA who has covered his share of U.S. presidential inaugurations, says the quadrennial swearing-in ceremonies have global importance because they "put America's best face forward and affirm American democracy."
Coverage of inaugurations, Malone says, can show the world how democracy works. They are moments in which the "country pauses and recognizes the vote that has occurred. No matter what, every four years this country has seen a peaceful transition of power. That is a strong symbol of democracy. It shows it can be done."
Malone first covered the second inauguration of former President Ronald Reagan in 1985 as an on-air anchor for VOA's English to Africa Service. Later, in 1993, he started to regularly report on inaugurations from Washington, D.C. and has been an active reporter on the political beat ever since.
One of Malone's most memorable experiences came in 1997 at the second inauguration of former President Bill Clinton.  He recalls that it displayed 'grassroots America' as hometown high school bands and people from Clinton's past were invited to the inaugural parade.
"A national mosaic filed past the White House" that day, he remembers.
While Malone sees inaugurations as a way to present American ideals, he also recognizes that they can be challenging news stories. Malone insists that it is VOA's responsibility to tell the story of the United States in a fair and balanced way, and this often includes explanations of American history and institutions.
With this in mind, Malone also acknowledges that not all inaugurations have the same historical weight. "I don't think I can remember a more exciting inaugural time than four years ago. The country was experiencing changes that spoke to its history and to its racial tensions."
This year, he reports, the crowd was less emotional as the nation's expectations were tempered with the realization that politics is tough and change comes slowly.  This is the case with most second-term inaugurations, but Malone believes that it was especially true this time around because the US is emerging from a "rough period" and "sharp divisions remain."
However, Malone remains hopeful that the inauguration can provide some benefit because it is less partisan than other political events, and organizers try to be inclusive of all Americans. Inaugurations, according to Malone, are "for everybody.  They are a time to celebrate and can be seen as a symbolic moment of healing."
Read more about how all BBG broadcasters were covering the inauguration here.
By Roxanne Bauer
Leave a comment