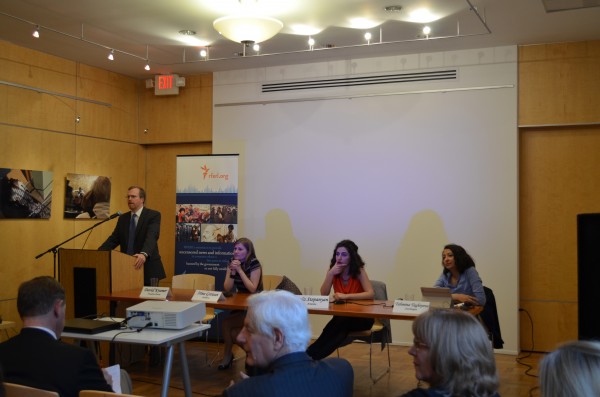 David Kramer directs questions to the Havel Fellows Gotisan (left), Stepanyan (center) and Taghiyeva (right) during a panel discussion April 9
Media freedom was celebrated last night as Radio Free Europe/Radio Liberty held a panel discussion entitled "Media Freedom in the European Neighborhood: Armenia, Azerbaijan, Moldova" last night, April 9, 2013, at the Embassy of the Czech Repulblic that featured this year's recipients of the Vaclav Havel Journalism Fellowship.
Havel fellows, Seda Stepanyan from Armenia, Tahmina Taghiyeva from Azerbaijan, and Irina Gotisan from Moldova, served as panelists and discussed the freedom of press in their own countries. The event was moderated by David Kramer, President of Freedom House, which compiles an annual report, Freedom in the World, on the state of global freedom.
The Fellows also presented videos that they had produced, demonstrating their excellent journalism and multimedia skills.  Following the presentations and a round of questions prompted by Kramer, the discussion was opened up to the audience.
Gotisan responded that she and the other Fellows could be optimistic about the future because they are, "young and smart" when an audience member asked about the potential for increased freedom in Eastern Europe. Each of the Fellows agreed that the legacy of the Cold War and their nations' transition to democracy still play a role in the level of freedom enjoyed, but they were also enthusiastic that programs like the Havel Fellowship helped to encourage objective journalism.
Fellows Gotisan and Taghiyeva discuss press freedom with John Todoroki of the Prague Freedom Foundation
This is the second year in which Radio Free Europe/Radio Liberty has awarded the Havel Fellowship. This year's recipients have extensive experience working in journalism in their home countries.  The program is open to promising journalists with English fluency from the Russian Federation and the European Partnership Countries: Armenia, Georgia, Azerbaijan, Belarus, Ukraine and Moldova.  Fellowships are awarded on a competitive basis and offer on-the-job training alongside RFE/RL's seasoned professionals.
Leave a comment