Voices from the Field: Franak Viačorka
The Vaclav Havel Fellowship is a joint program between the Ministry of Foreign Affairs of the Czech Republic and Radio Free Europe/Radio Liberty that is inspired by the former president's belief in the transformational role of journalism in challenging tyranny.  It provides direct work experience and mentoring at RFE/RL's Prague headquarters to journalists from countries in RFE/RL's broadcast region where media freedom is stifled. More information about the program can be found here.
Journalists shouldn't afraid of government. Even if it seems to be impossible, we journalists must find the opportunity to show the truth as it is.
Franak Viačorka in Belarus
When I was sixteen, my radio program "Young Voices"  appeared on the web and on air twice a month on the Belarus Service of Radio Free Europe / Radio Liberty.  The program was about my generation of youth, its activities and its struggle for freedom. I already had some journalism experience; at the age of 13, I was making reportages for independent radio stations about youth protests in Belarus and had created an informational portal about the presidential electoral campaign in 2001. "Young Voices" built on this experience and really gained traction.  After it began broadcasting, I was interrogated by the KGB for the first time. I was a teenager, and the interrogation demonstrated the power of free information to me. Once RFE/RL wrote about my detention, I was instantly released.
After this, I understood that my mission is to inspire free speech and free thought in Belarus.
As a result of my work in journalism, I have been jailed four times and expelled from the state faculty of journalism for "professional inconsistency."  One morning I left my house to buy bread, and I was detained by two men from the security service. They handcuffed me and took me to the army in spite of the law and my own medical health.  I spent eighteen months of service in the Chernobyl Zone. Those months were like prison for me because of the "special treatment" and "political re-education" I received. I was forced to clean toilets with bare hands. I celebrated New Year 2010 in the hospital with a scab and others soldiers.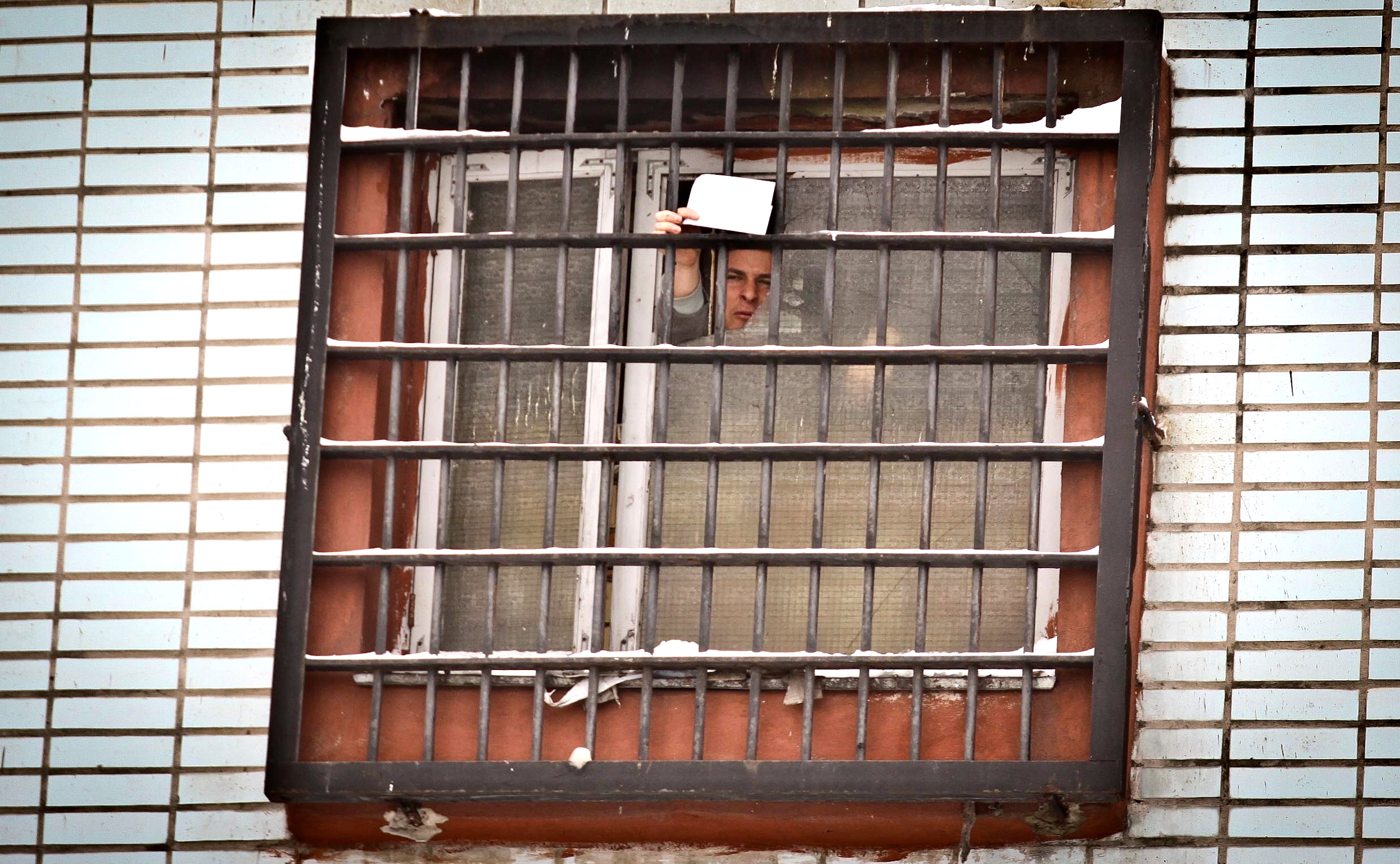 Viačorka in prison in February 2011
This did not stop me, though, because I began to write a blog about the realities of the army.
With my blog, I was fighting for the rights of myself and the other soldiers.
I took photos of the toilets and the inhuman conditions of the cells and put them on the web via an "illegal" mobile phone.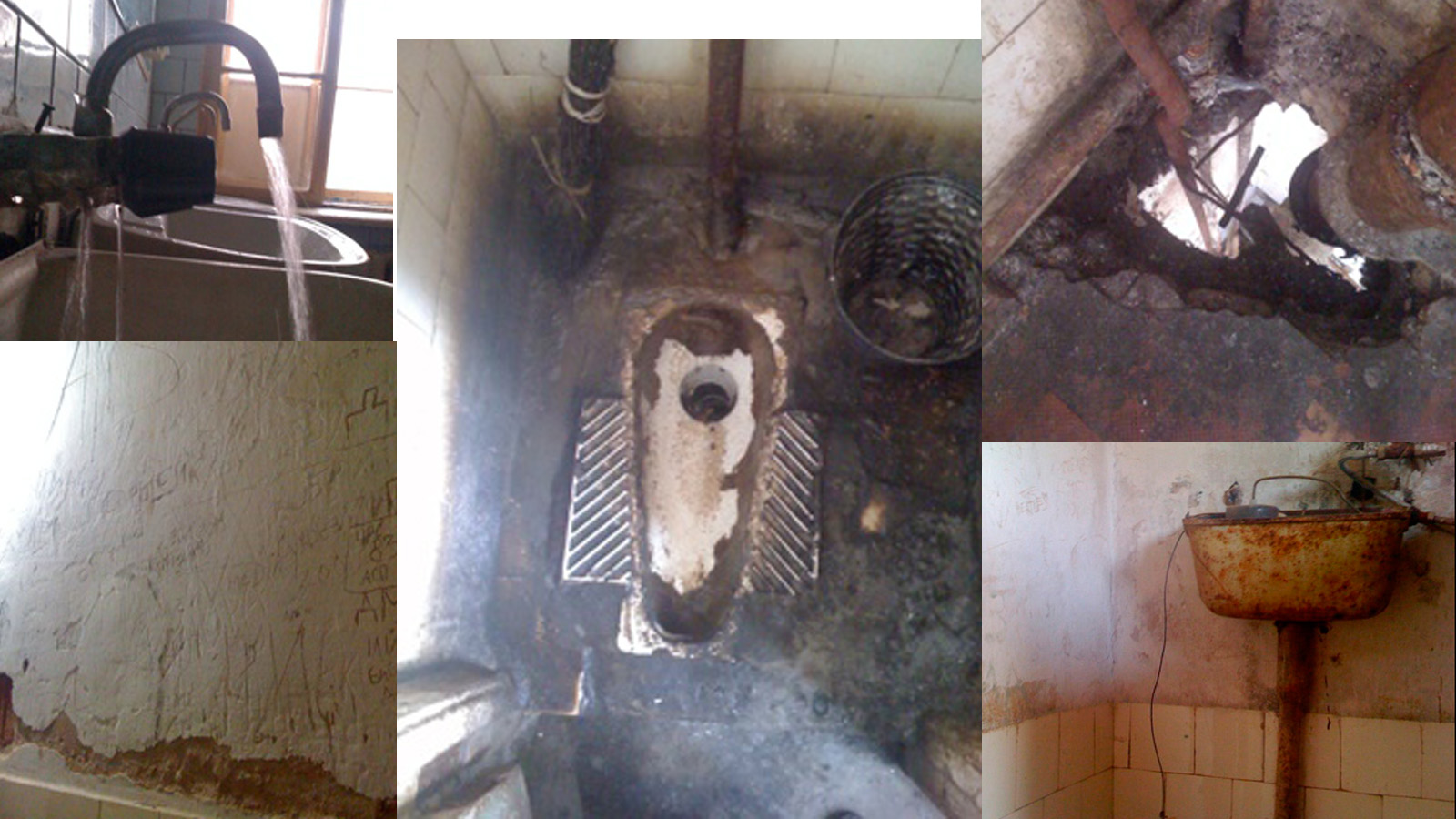 Photos of the toilets that Viačorka was forced to clean by hand. He posted these photos to his blog in protest of the inhuman conditions.
The blog became popular, and RFE/RL republished it. In some ways, the blog was a success because the soldiers and I were granted time off in the city, the right to call home, more or less edible meat, and the toilets were partly reconstructed. I was also granted the right to serve using my native Belarusian language.  Finally, I proved that I was drafted illegally.
I also managed to participate in local elections during my time as a soldier. I was registered as a candidate to the local council of deputies.  RFE/RL and my blog made me well-known in the town as 'the people's journalist.'  Of course, the elections were falsified, and I did not win.  However, I did succeed in proving these falsifications occurred. I hid myself in the voting cabin and made a video with a smartphone. In the ballot box, there were 750 extra ballots with the opponent's name.
Poles even shot a feature movie based on my story, and it was shown in a majority of cinemas in Poland. It was also shown at the Cannes Film Festival.  In Belarus this movie was forbidden.
RFE/RL was the first to write about it.  You can read their story here.   The trailer for the movie is also available to watch here.
I think in Belarus, independent journalism is too strongly connected with politics.  Journalists in Belarus are being persecuted by the Government, the same and even harsher than oppositional activists.
________________________________________________________________
Franak Viačorka, the first Vaclav Havel Journalism Fellow at RFE/RL, is a journalist, filmmaker and political activist from Minsk, Belarus. Franak has worked as a journalist and editor for several independent publications in Belarus, including as a freelancer for the BelaPAN news agency (2005-2008), as executive editor of the Belarusan Popular Front's monthly journal "Naviny BNF" (2005-2008) and since 2011 as director of the "Citizen Journalist" initiative narodny.by. Viachorka also worked from 2008-2012 with the independent satellite TV channel Belsat. Since completing his Fellowship, he has continued to work with RFE/RL as the Belarus Service's New Media Manager and as a presenter on the RFE/RL Belarus Service program "Zona Svobody."
In 2006 Viačorka starred in the award-winning documentary, "A Lesson of Belarusian," which chronicled his life as a pro-democracy youth activist in the run-up to the country's 2006 presidential elections. He is also the co-screen writer and second director of a 2013 film, "Viva Belarus," about his army service and the circumstances faced by young conscripts.