Earlier this month, the Broadcasting Board of Governors (BBG) hosted Innovating at the Speed of News, a digital innovation expo highlighting the tools that the BBG uses to reach and engage audiences worldwide. One of the featured innovations was Pangea, a next-generation content management system (CMS), which is used across four of the BBG's broadcasting networks and was developed by Radio Free Europe/Radio Liberty (RFE/RL).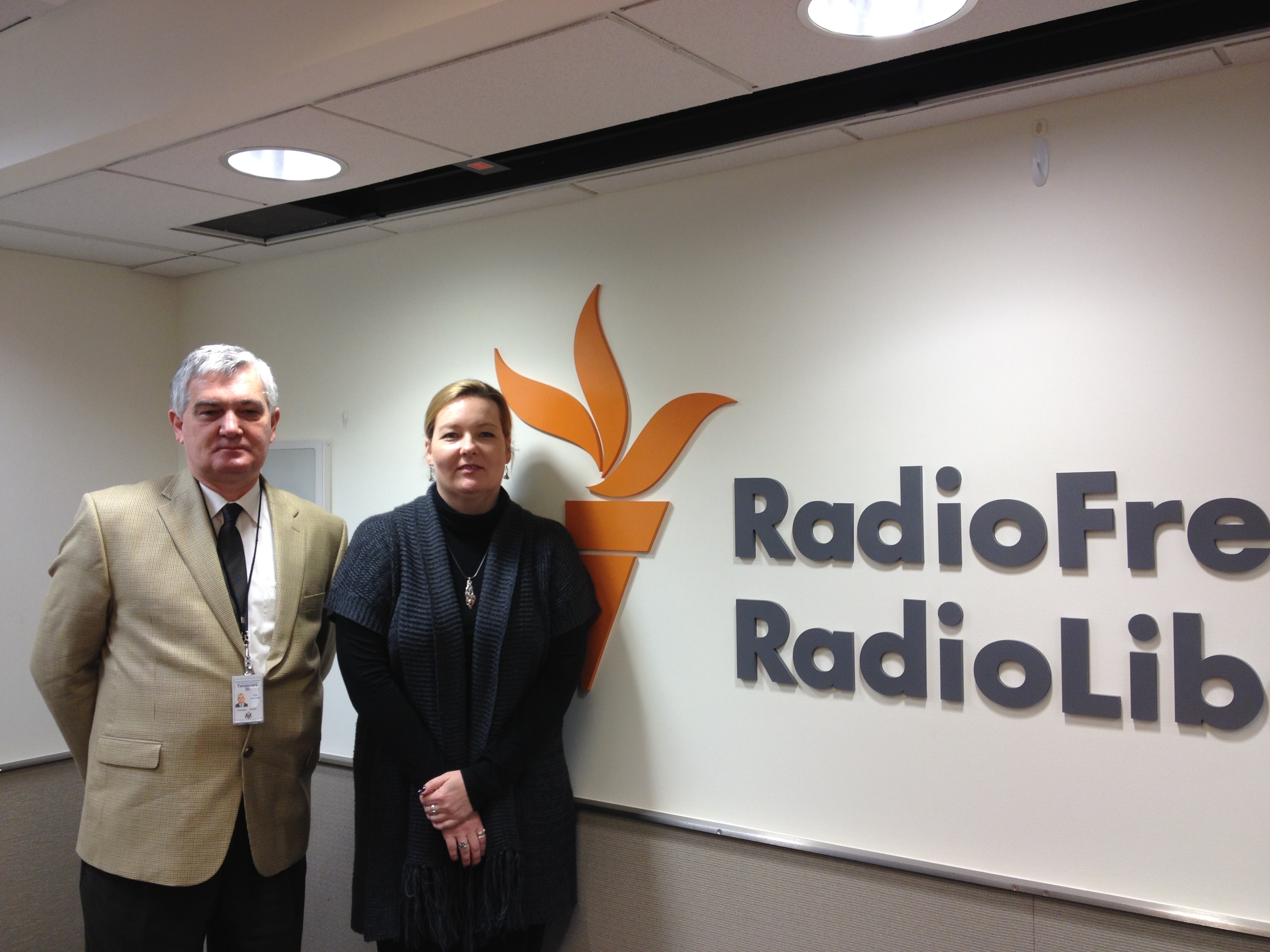 Aladin Telalagic and Kim Conger visit RFE/RL's offices in Washington, D.C.
Aladin Telalagic: "My proudest moment while working for Radio Free Europe/Radio Liberty came when I received an email from André Mendes stating that Pangea was selected to be the platform for shared content management among the BBG's broadcasters.
I have personally been working on Pangea since 1998 when we published the first version; it is now in its sixth edition. One of the reasons why Pangea is so useful is that it's tailored for journalists. We set up three teams that looked at the CMS of the other entities and analyzed them for their technological, usability and financial elements.  Technological considerations included the scalability and reliability of the CMS, usability looked at how the user would interact with an agency's website and the financial team considered the costs of content management.  We wanted to make sure that everyone's voice was heard and that all opinions were taken into consideration.  As a result, Pangea is efficient and user-friendly."
Kim Conger:  "I have worked on the Pangea platform with Aladin since 2005. It has been very rewarding to be a part of a product that has such an impact on RFE/RL's — and now the BBG's — mission. The RFE/RL Digital team is a very talented group of people who enjoy what we do and work very well together. We're like a family and are fiercely protective of that. Aladin and I work very hard to get the right people with the right talent and temperament to get the job done."
Aladin: "In addition to enabling content sharing, Pangea also makes economic sense. In this atmosphere of sequestration, we saved BBG over $1 million.  The websites are also more responsive to users.
Pangea provides the backbone for around 200 of the BBG broadcasters' websites, including those of Voice America, Radio and TV Martí, and Middle Eastern Broadcasting Networks.  It also hosts the Global News Dashboard, mobile platforms for each entity and Showcase.  The tech team regularly updates Showcase with new training materials and design planning tools. The various BBG agencies can use the site to train themselves to use Pangea and see what their agency's site would look like on the Pangea platform with their own branding.
The BBG has also accepted our vision for the development of mobile software.  We have spent two years analyzing the Android and iOs markets for RFE/RL and the other agencies are cloning our code to use.
On a personal level, the selection of Pangea was also very gratifying. I joined the team in 1999 as a maintenance engineer, moved up to department programmer, and now I work as the Director.  My team is very dedicated and put a lot of time and energy into the project.
I also feel personally accountable for the security of the websites hosted by Pangea.  When the Russian Government attacked RFE/RL's website, I worked more than 24 hours to block their interference. It's our responsibility to protect the data on the servers.  The language services, clearly, are a target."
Kim: "The BBG has faith that our team is up to the challenge. We are meeting that challenge and it's gratifying."
______
Aladin Telalagic, Director of Internet Technology, and Kim Conger, Deputy Director,  helped create Pangea, RFE/RL's best-in-class content management system. Pangea now serves four of the BBG's broadcasters. By migrating content into a shared management system, BBG has improved coordination and interoperability among our broadcasters, reduced systems duplication, and expanded in-house capability.
Leave a comment